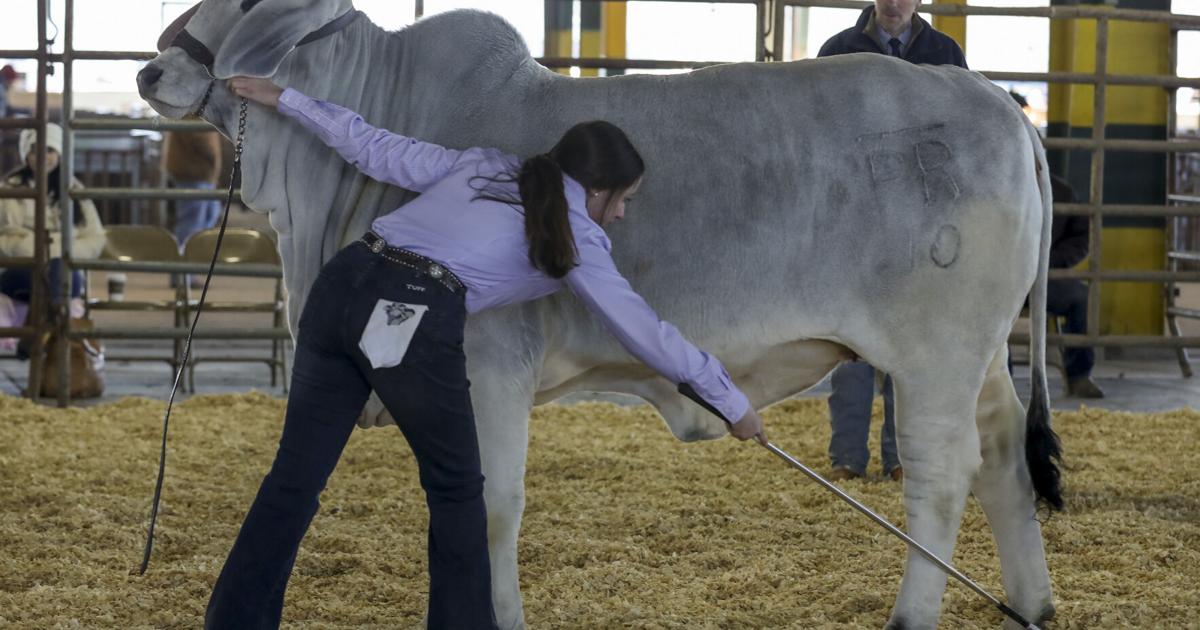 Ascension Parish Breeding Show Results, Next District | Ascent
Poultry, rabbits, pigs, cattle and goats were exhibited at the Ascension Parish Livestock Show by 75 Ascension Parish 4-H and FAA students on January 22 at the Lamar Dixon Expo Center.
"The memories, camaraderie, work ethic, friendly competition and responsibility gained through these breeding projects will be for life," said a press release.
In addition to the animals judged, other prizes were awarded, such as first exhibitor, showmanship and scholarships. The first exhibitor competition tests the knowledge of livestock exhibitors on the species of their animal. Students are tested and the most proficient exhibitor wins, according to the statement.
The showmanship competition is based on how the exhibitor presents the animal to the breeding judge. The presentation is based more on the actions of the exhibitor than on the confirmation of the animal presented. Scholarships were awarded to senior graduates. This year, an additional purse has been added to the dedicated mix in honor of the late Clint Delaune, who was a cattle parent and husband of Livestock Council Chair Mandy Delaune. A memorial hub has been established to recognize scholarship recipients each year.
Next up for Ascension livestock exhibitors is the South Central District Livestock Show taking place Feb. 3-5 in Lamar-Dixon and the LSU AgCenter State Show taking place in Lamar-Dixon Feb. 12-19. Livestock shows are free and open to the public for spectators.
2022 Ascension Parish 4H/FFA Jr. Breeding Show Results:
POULTRY
Broilers
Champion Broiler Pens and Reserve Champion Broiler Pens: Sierra McCormick
Poultry Exhibition
Bantam Champion: Luke Guillot
Bantam Vice-Champion: Beau Louvière
Champion Standard: Kayden Roussel
Reserve Champion Standard: Amelia Parker
Supreme Bird in Show: Kayden Roussel
Staging
Main Presenter: Sierra McCormick
Intermediate Showman: Anna Parker
junior showman
Rookie showman: Amelia Parker
Overall: Amelia Parker
First exhibitor: Quincy Mack
Rabbits
Best Bunny in Show
Grand Champion and Reserve Grand Champion: Anna Cole
Staging
Senior Showman: Rachel Stewart
Intermediate Showman: Anna Cole
Junior Presenter: Pyke Gautreau
Rookie Showman: Rémi Gautreau
Overall: Rachel Stewart
First exhibitor: Kayleigh Salazar
Dairy
Reproduction
Commercial dairy heifer
Commercial Champion Dairy Heifer and Reserve Champion Dairy Heifer: Kayden Roussel
Jersey
Champion Jersey Heifer: Hudson Clements
Reserve Champion Jersey Heifer: Rogue Clements
Supreme Dairy Female: Hudson Clements
Dairy staging
Senior Showman Kayden Roussel
Intermediate Showman Hudson Clements
Junior Champion Showman
Champion Rookie Showman: Maverick Clements
Champion Dairy Showman and first exhibitor: Kayden Roussel
Beef
Marlet
Brahman influences commercial heifers
Champion Brahman Commercial Influence Heifer: Skyler Townson
Commercial heifers of non-Brahmin influence
Champion Non-Brahmin Influenced Commercial Heifer: Jenna Kling
Reproduction
beef master
Champion Beefmaster Bull: Jenna Kling
Reserve Champion Beefmaster Bull and Champion Beefmaster Heifer: Jorja Kling
Reserve Beefmaster Heifer Champion: Jorja Kling
Gray Brahman
Grand Champion Gray Brahman Bull, Reserve Champion Gray Brahman Bull and Grand Champion Gray Brahman Bull: Peyton Blanchard
Hereford
Grand Champion and Reserve Champion Hereford Heifer: Hailee Daigle
Simmental
Champion Simmental Heifer: Brody Babin
Reserve Champion Simmental Heifer: Braylie Babin
Angus
Angus Champion Calf: Brody Babin
Reserve Champion Angus Heifer: Braylie Babin
AOB Non-Brahman
Grand Champion AOB Non-Brahman Femalez: Megan Motichek
red Brahman
Grand Champion Red Brahman Bull: Peyton Blanchard
Braford
Grand Champion Braford Female: Skyler Townson
Total Bull and Global Heifer: Jenna Kling
Staging
Senior Champion Showman: Peyton Blanchard
Intermediate Champion Showman: Jorja Kling
Junior Champion Showman: Braylie Babin
Rookie Champion: Skyler Townson
General: Peyton Blanchard
First exhibitor: Brody Babin
Sheep
Market lambs
Champion and Reserve Champion Market Lamb: Brookelyn LeBlanc
breeding sheep
Staging
Intermediate Showman Brookelyn LeBlanc
Overall: Brooklyn LeBlanc
First exhibitor: Brookelynn LeBlanc
Goats
market goats
Grand Champion: Hayden Daigle
Reserve Grand Champion: Reese James
Goat breeding
Champion and vice-champion Boer Buck thoroughbred: Alie Causey
Purebred Boer
Champion and vice-champion Purebred Boer Doe: Desiree Falgout
Percentage of Boer Bucks
Boer Buck Percentage Champion: Hayden Daigle
Reserve Boer Buck Percentage Champion: Désirée Falgout
Boer percentage
Boer Doe Percentage Champion: Désirée Falgout
Reserve Boer Doe Percentage Champion: Alie Causey
Nigerian Dwarf – Bucks
Nigeria Dwarf Buck Champion: Sadie Bourgeois
Nigerian Reserve Champion Dwarf Buck: Maverick Clements
Nigerian Dwarf – Is it
Nigerian Dwarf Doe Champion: Sadie Bourgeois
Nigerian Reserve Dwarf Doe Champion: Paige Blanchard
AOB meat – deer
AOB Meat Doe Champion: Desiree Falgout
Nubian – Buck
Nubian Buck Champion: Kayden Roussel
Nubian – Doe
Nubian Doe Champion and Vice-Champion: Kayden Roussel
Commercial deer meat
Champion Commercial Deer: Tobie Laiche
Reserve Champion Doe: Alie Causey
Supreme Champion Doe: Désirée Falgout
Buck Supreme Champion: Alie Causey
Goat Showmanship
Senior Champion: Alie Causey
Intermediate Champion: Hayden Daigle
Rookie Champion: Brielle LeBlanc
General Showman: Alie Causey
First exhibitor: Paige Blanchard
Pork
market pigs
AOB
AOB Champion: Canyon Robertson
Reserve AOB Champion: Harley Templet
Wheelbarrow
Champion Barrow: Abby Lobell
Barrow Reserve Champion: Paisley Danehower
Hampshire
Hampshire Champion: Abby Lobell
Reserve Hampshire Champion: Rylie Landry
yorkshire
Yorkshire Champion: Anna Schexnayder
Duroc
Duroc Champion: Tobie Laiche
Reserve Duroc Champion: Anna Schexnayder
golden cross
Champion Cross Gilt: Bailey Louviere
Reserve Cross Gilt Champion: Abby Lobell
Grand Champion Market Pig: Bailey Louviere
Reserve Market Pig Champion: Abby Lobell
breeding pigs
Gilt Commercial Champion: Canyon Robertson
Commercial Gilt Reserve Champion: Désirée Falgout
AOB
AOB Champion: Kade Schexnayder
AOB Vice-Champion: Ethan Delaune
Duroc
Duroc Champion: Tobie Laiche
Reserve Duroc Champion: Bryson Delaune
Hampshire
Hampshire Champion: Aubree Savoy
Reserve Hampshire Champion: Bryson Delaune
yorkshire
Yorkshire Champion: Cameron Deane
Reserve Yorkshire Champion: Anna Blanchard
Supreme Breeding Gilt: Tobie Laiche
Staging
Senior Champion: Tobie Laiche
Intermediate Champion: Ethan Delaune
Junior Champion: Bryson Delaune
Rookie Champion: Desiree Falgout
Overall Champion: Tobie Laiche
First exhibitor: Joseph Liotta
Novice exhibitors
General Rookie Exhibitor: Brielle LeBlanc
Rookie exhibitors: Easton Brady, Amelia Parker, Joe Liotta, Rogue Clements, Wyatt Landry, Maverick Clements, Skyler Townson, Megan Motichek. Tobie Laiche Remi Gautreau, Désirée Falgout, Orion Rood, Canyon Roberston, Quincy Mack, Brielle LeBlanc and Reese James
Senior Exhibitors
Rylee Landry, Mallory Miller, Abby Lobell, Désirée Falgout, Sadie Bourgeois, Kade Schexnayder, Rachel Stewart, Harley Templet,
Clint Dealune Memorial Scholarship: Abby Lobell
Volunteer Service Award
Volunteer Award: Lisa Stewart